At Deep Creek Anglican church we strive to treasure the children just like Jesus did. We love to see them grow and learn. And so we have a priority for creating a safe environment where they can thrive (see our child safe policy).
We have a wide range of activities occurring during the week and on Sundays for children. Have a read of the details below for more info and to sign up.
Click a heading below to find out more
View our Child Safe Policy
Safe Ministry Toolbox
Playgroup is for families with pre-school children aged 0-5 years.
It is a time where children can learn to interact with different people and have fun as they learn through their play. It's also a time for parents and carers to connect with each other and be supported in their role.
Playgroup at Deep Creek is held on Fridays from 10am - 11:30am during the school terms.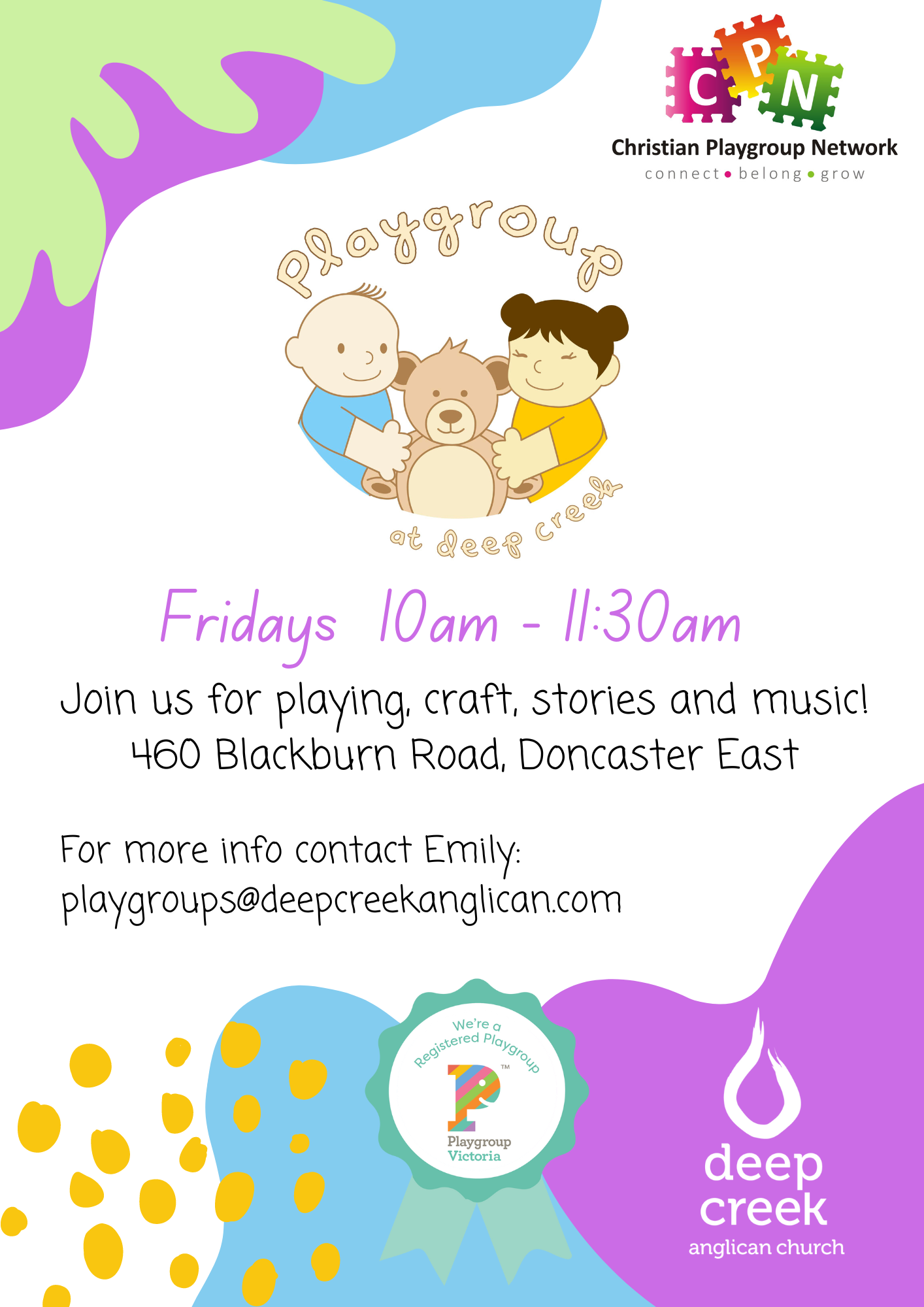 Email our Playgroups Co-ordinator for more information or to organise a free "Come and Try" session.
For kids in Prep to Grade 5, the DC United meets on Fridays during school terms. Children will enjoy an action packed program of games, crafts, challenges and Bible stories in a safe friendly environment. A snack is provided so they won't go hungry.
Cost: $4 a week
Time: Friday 4:30pm to 6pm
For more information contact emily@deepcreekanglican.com
Children are a valued part of our church community and begin their Sunday time worshiping with family in church before going to age appropriate children's groups.
Crawling - Age 3:
CRECHE
Creche is supervision and care of your little ones with God's love introduced through songs, rhymes and play.
3 - 5 years:
KINDY KIDS
Kindy Kids is for preschoolers to enjoy learning about Jesus through craft, stories and play.
Prep to Grade 5:
DC KIDS
DC Kids is for primary school aged kids. Children learn that Jesus can be their closest friend as they learn to draw near to Him through prayer, scripture reading, worship and a range of fun activities.